Book Patrol is a website committed to promoting, protecting and and preserving book culture. We offer a highly curated selection of collectible books and related material as well news and visuals from the abundant book universe.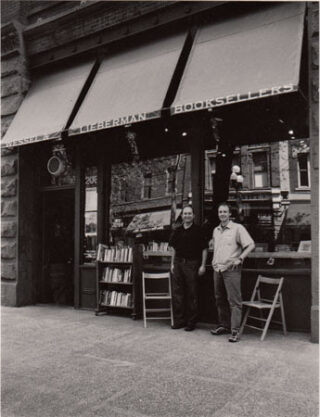 Book Patrol was founded in 2006 by Michael Lieberman. Lieberman founded Wessel & Lieberman Booksellers (1993-2014) in Seattle and from 2016-18 managed the book collection at Folio: The Seattle Athenaeum.
All books offered for sale are guaranteed as described and shipped with care. 
If you are looking to build a collection or need help dispersing a library we can assist.  Looking for a gift? We offer expert gift services. And if you are a librarian looking to fill some holes or add something new to the collection – we welcome you to consider Book Patrol as a resource.
photo by Mary Randlett. Michael on the left, Mark Wessel on the right
BP in the media:
From 2006-2015 Book Patrol appeared on the website of the Seattle Post-Intelligencer 
More About Michael
 Michael has served on the boards of the Friends of the Seattle Public Library, The Book Club of Washington and the Antiquarian Booksellers Association of America. He has also been a member of the National Book Critics Circle and a proud community representative for the Digital Public Library of America.
He was born on May 10th. The day, in 1933, the infamous Nazi bibliocaust took place.
When not reading, playing with or writing about books Michael is hanging out his my wife and two kids in the Emerald City.
Press, Interviews…