Support Book Patrol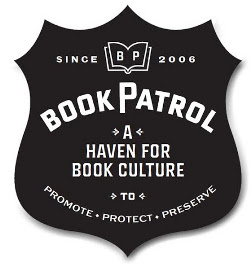 First, thanks for getting this far.
As you can probably tell I am a big fan of books.
Book Patrol started as a blog in 1996 and now spans the internet to bring you news, images and related content from all corners of the book universe. Since its founding, Book Patrol has expanded its reach to include healthy presences on Twitter, Pinterest and Tumblr.
I love doing this and have committed much of my life to books. In the summer of 2012, after 20 years, I left Wessel & Lieberman Booksellers to focus all my energies on Book Patrol.
I would love to keep doing this until they carry me out but I need your help.
Book Patrol is ad-free and to continue on this path I need the support of my readers, colleagues, and friends.
Please consider becoming a supporter of Book Patrol.
 There are a few ways to support our efforts:
1. Buy Books offered in our online shop! 
2.  Buy Books offered and featured in our posts via the links provided. This will earn us an affiliate commission. 
3. If you are a bookseller, author, library or other book-friendly organization hire Book Patrol to help with your content and social media needs. See our slate of offerings here.
4. If your book acquisition  and social media needs are met and you enjoy what Book Patrol offers please consider making a donation.
You can choose to have an automatic monthly donation at the amount you're comfortable with or you can make a one time donation.
By becoming a supporter of Book Patrol you will also have access to me and my  20+ years in the trade. Think of it as having your own bookseller to help with any book needs you may have.
For a monthly donation:
For a one time donation:
Michael